Product Configurator Integrations
Visualization for Product Configurators
Use the
3DViewStation

to leverage powerful 3D visualization for your product configurator

You operate a product configurator on the web or you are the manufacturer of a CPQ (Cost/Price/Quote) solution. Your solution knows everything about the product to be configured - it knows the configuration rules as well as the prices of the components, has access to the corresponding geometries, but, is a powerful visualization aspect is missing? The Kisters 3DViewStation WebViewer version is the perfect addition to your solution. If you'd like to to configure your products within a PLM system or simply visualize the possible, predefined product variants (which are often available as a matrix), the 3DViewStation as desktop, WebViewer version or even as VR edition is an option for you. Final results can be a 100% BOM, a 3D model and/or a 2D drawing.
Advantages...
... for users
Fast visual impression even with extremely complex products
High quality display thanks to material support
Simple operation
... for developers
Allows you to implement all possible approaches to product configuration - not limited to 150% models
Rapid implementation of an integration
Few lines of programming code required, as no SDK
Only minor adjustments necessary when switching between desktop, web/mobile and VR integrations
Competent consulting team helps with all integration questions
... for decision makers
Exact 100% BOM as basis for the Digital Twin
Many security features protect your know-how
Differently equipped clients for end customers and internal users possible
Only one solution for 3D and 2D final results
Many automation possibilities
No training necessary
No client installation necessary (with WebViewer)
Some advantages in the context of product configurators:
The visualization is extremely fast, shows configuration changes within a second, and runs in the cloud or on its own infrastructure.
Geometries are loaded, positioned and scaled in real time - ideally, a 150% model is not simply reduced
It is also possible to use 150% models, which are only reduced to 100% at runtime via a selection matrix.
We support the use of beautiful materials and environmental images (2D or 360 degree images, 3D skyboxes) in real time.
The 3DViewStation WebViewer can display complete products, which can even consist of 100,000 parts, in seconds - in the browser.
The 3DViewStation Desktop version is often used for fat clients or as authoring system for the preparation of CAD data.
You will be able to offer 2D drawing derivations that are automatically generated from the configured 3D model.
The 3DViewStation helps you to protect your IP (Intellectual Property):
We would be happy to advise you
Sales Germany
+49 2408 9385 517
Sales USA
+1 916 723 1441
Some project details:
Today, the 3DViewStation is already used by companies to visualize configurable truck engines, complete trucks, complete helicopters, industrial air conditioning, electrical components and more.
The truck engines of our customer Deutz have an extremely high number of variants that runs into the millions. This cannot be completely defined in advance using traditional CAD methods, but requires intelligent algorithms which ensure that on the one hand the preparation effort is kept to a minimum and on the other hand that positioning can be carried out automatically at runtime. In this case, different 3DViewStation product variants are used in interaction. For preparation the Desktop Version, for automation our Batch tool KAS, at runtime in the web our WebViewer Version.
In industrial air conditioning systems, the function of a component essentially determines its position and location, while the associated building provides its own boundary conditions. For the company Fläkt we have generated a complete 3D model with the 3DViewStation WebViewer then we have automatically extracted legally binding 2D drawings from the 3D model for the quotation documentation.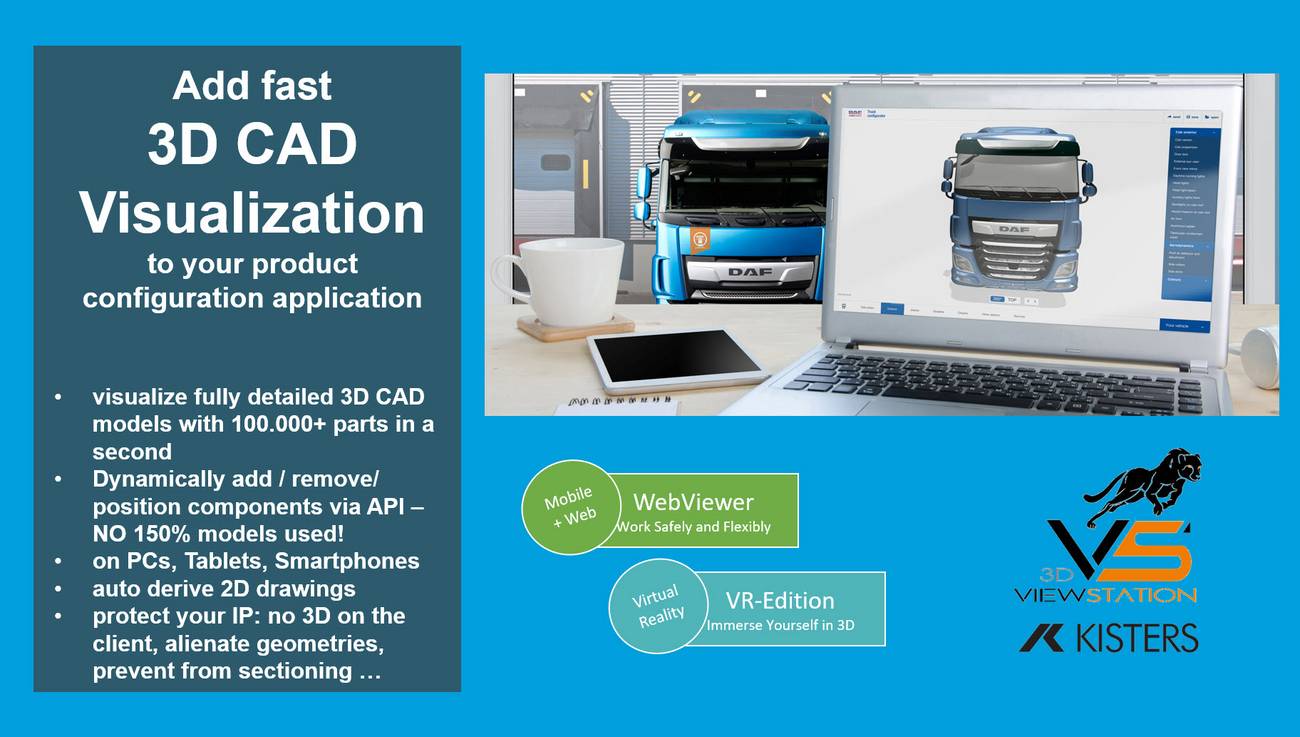 For DAF, the focus was on an attractive front-end for customers and high performance when operating in the Azure Cloud. Data that is available as NX or Creo in the PLM system is partially alienated and neutralized with 3DViewStation. The configuration is done using beautiful materials on the web. In the end, either 3D models in neutral BREP format or high-quality 2D drawings with multiple views, layers and blocks are exported. This solution led us on to win the "Digital Innovation of the Year" award with DAF.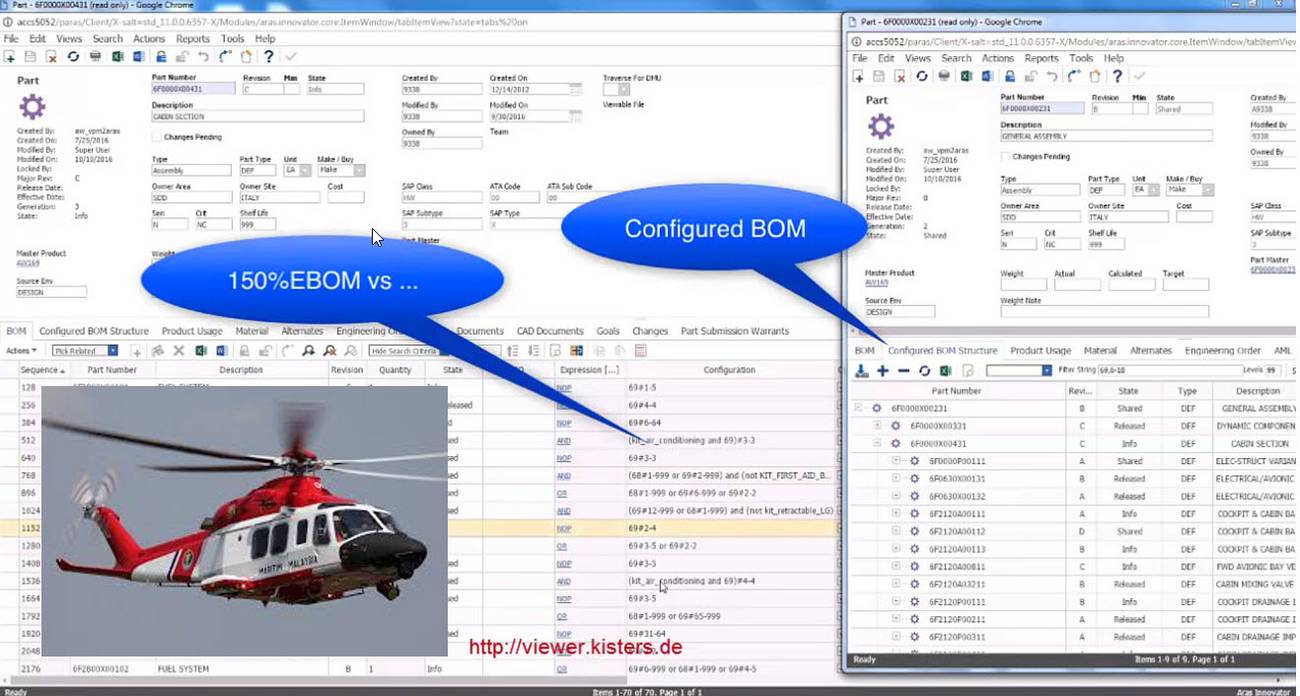 Leonardo has replaced its external configurator without any graphics by a configuration management system integrated in Aras PLM with 3D visualization based on Kisters 3DViewStation. On the one hand, the 100% BOM for the subsequent processes up to production is defined here. On the other hand, PLM users can visualize the complete helicopter themselves at any time, carry out analyses and transfer selected data to the CAD system Catia for processing.
At Kostal, too, the information on all possible configurations of electrical components comes from the PLM system, in this case the CIM database. The visualization is done in the 3DViewStation. A plugin for the desktop version was developed for this purpose, this reads a table of all possible configurations and updates the graphical display accordingly when clicked.